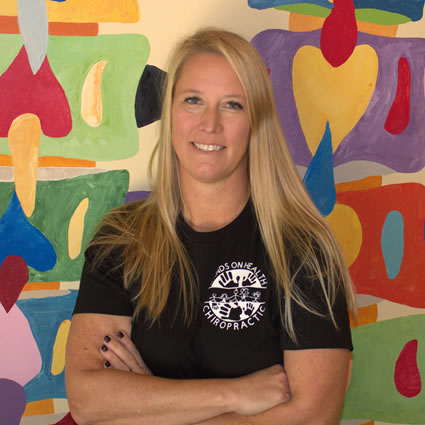 Meet Dr. Meredith Grady
Finding Chiropractic
Dr. Meredith's chiropractic journey truly began when she was 14 years old, as a highly recruited high school athlete in pain. Even taking 16 Advil a day just to step on the volleyball court, she struggled and played through the pain. Her parents learned of the side effects of anti-inflammatory drugs and took her to a chiropractor in order to find a better solution.
"I was hooked-not only did chiropractic care enable me to play volleyball again, but the things I heard and saw made so much sense that I knew I wanted to become a chiropractor."
During her senior year of college at University of Oklahoma, Dr. Meredith had to be carried off the court in pain by her father, in a match against Iowa State. Again, she found relief in chiropractic. But it wasn't until she became a chiropractic student, after graduating from OU, that she realized chiropractic was so much more than pain relief.
Dr. Meredith graduated from Parker College of Chiropractic in Dallas, TX in 2002, and was named "Best Intern" out of her graduating class. Shortly afterward, she opened Hands On Health Chiropractic in Grapevine. She is one of the few chiropractors in the area to offer True Spinal Decompression using the DRX 9000C.
A Passion for Youth and Athletics
In 2005, Dr. Meredith and her husband Ryan started 900VB, a nonprofit program which has helped nearly 60 girls to earn collegiate scholarships. Between 2009 and 2011, 900VB boasted a total of four teams qualifying for the Junior Olympics.
Dr. Meredith also coaches high school juniors who travel and compete against other nationally ranked teams and clubs, and was IMPACT certified in 1997. She has hosted volleyball camps in Preston, MN and throughout Texas.
Most years, you can also find Dr. Meredith teaching the central nervous system portion of high school Anatomy at the local high school. She says "It's fun to educate kids – they are sponges and just learn so much so quickly!" She loves educating youth in the community and her own practice members because she enjoys helping to change impressions about chiropractic.
On Her Own Time
Dr. Meredith enjoys running and cross-fit. But mostly she loves to play and be active with her family. Dr. Meredith and her husband Ryan have 4 kids – Ages 7, 7, 5 and a newborn. Dr. Meredith worked part time while the twins were small, and is excited to be back in the office full time!
What I Love Most About Being a Chiropractor
"People most often come in with some sort of a symptom," says Dr. Meredith, "something they're wanting to resolve." "Helping them to feel better and being able to teach them about the other benefits of chiropractic, such as how they can live better through wellness care, is my joy."
"The central nervous system controls every function in our bodies, and most people don't think about that. I like to help people understand what's really going on inside their bodies, and helping them to then educate their friends and family about exercise and spinal care."
Hands On Health Chiropractic has a strong practice with tons of families and kids. Roughly 40% of our practice members are children – especially high schoolers and young athletes. Many of the local coaches are practice members here, and we certainly have a community and family feel about the office.
EMAIL DR. MEREDITH »
Dr. Meredith's Volleyball Resume
Dr. Meredith graduated from Grapevine High School in 1995, and played Varsity there for 3 years under Rick Johansen. While at GHS she led her team to the playoffs and earned these honors:
Best Setter (2 awards)
MVP (3 awards)
The G-Award (team MVP)
All-Tournament Team
Setter of the Year
1st team All-Star Telegram
1st Team All-Area
1st team All-State TGCA
1st team All-State AP
All-NE Tarrant County Team
1st Team All-District
Also in high school, as a member of Mid-Cities top 18s team (now combined with TNT and Metroplex as TAV) under Arthur Stanfield, she and her team:
Won Tour of Texas
Won PeachTree
Won 3rd Coast
And received an OPEN invitation to Nationals in Austin, TX
Dr. Meredith chose to go to OU and continue her volleyball career playing under 2-time Olympian, Miles Pabst. Some of her accomplishments there include:
Being a four-year starter
Setting (and still holds) numerous OU and Big 12 records in side-out scoring
At OU, she was named:
to All-Tournament Teams at Purdue and University of Kansas
MVP at the Wake Forest Tournament
1st Team Academic All Big 12
1998 Big 12 Senior Scholar
1998 Trish Lundeen Team MVP Award
1999 NCAA Oklahoma Woman of the Year
After her undergraduate years at OU, Dr. Meredith moved back to Grapevine and continued to play adult volleyball. She played for the Dallas Cobras (a professional volleyball team) in 1999. In 2002, TAV sponsored her team to Adult Nationals and they finished 2nd in the Women's A Division. She was named an All-American and also played on a Men's A team where she was named Tournament MVP (2 awards) and invited to the All-tournament team.
At Parker College of Chiropractic, Dr. Meredith was the captain and coach of the volleyball team for all three years she attended. Her team competed in the Chiropractic Olympics each of those three years.
Always up for a challenge, Dr. Meredith also played on the 2005 Dallas Diamonds Women's Pro Football Team as tight end / wide receiver. That year, the team won the Women's Professional Football Superbowl, and she retired after one glorious season.
Get Started Today
Give Hands On Health Chiropractic a call today. Let's work together to help relieve your pain and achieve wellness. (817) 421-4775


Dr. Meredith Grady | (817) 421-4775