Hands On Health Chiropractic Return Visits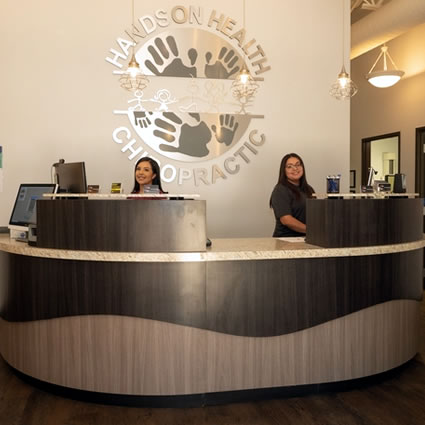 There's so much good news about return visits:
they only take 5 minutes
you can come for them completely at your convenience
you can show up without an appointment
and you'll be able to check yourself in without delay
When you arrive, feel free to head straight back to the Open Adjusting Area and swipe your Health Card through our Platinum System. You'll receive a personalized Health Card with a bar code on one of your first visits.
You'll then be prompted to do a short warm up, which will help you get ready for your adjustment. Once you're warmed up, you can select one of the available tables in the Open Adjusting Area. You'll notice that half-walls separate each table, and there is enough space between tables so that you and the doctor will have some privacy when they come to adjust you.
You'll scan your card again at the table you chose, and wait just a moment for the doctor. The computer will ask a few questions, and will prompt you to lie down and wait on the adjusting table.
Yes, all of this will truly take place in 5 short minutes! And all current practice members are free to show up during Open Adjusting hours without an appointment.
There are a couple of exceptions:
If you haven't been in for 6 months or longer, you will need to get a new scan on the Subluxation Station before going on to an adjusting table. This will add a few minutes to your visit.
If you haven't been in for 12 months or longer, you'll need new X-rays and an exam so that the doctor can be confident of what's going on in your body and if there have been any significant changes in your spine. You'll need to schedule an appointment outside of Open Adjusting hours.
Maintenance Along the Way
If you remain under care, you can expect the following so that Dr. Meredith or Dr. Tony can properly chart your success and care for you:
Getting a new scan on the Subluxation Station on every 12th visit
Getting X-rays taken again after 36 visits when you are on a corrective care plan
Getting X-rays taken every 12 months, to ensure we make changes in our adjusting based on changes in your spine
We look forward to seeing you! Please give us a call if you have any questions.
CONTACT US »

Return Visits at Hands On Health Chiropractic | (817) 421-4775