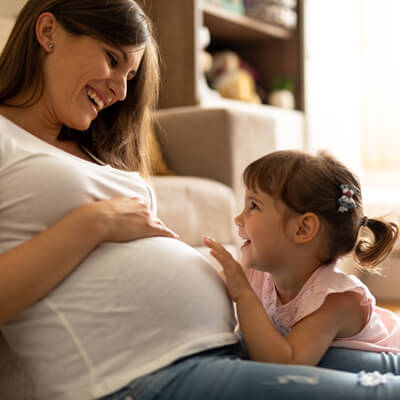 Pregnancy Chiropractic in Grapevine
The first thing most people ask about pregnancy chiropractic is "Is it safe?" The good news is yes, it's very safe and effective. At no point is the baby touched; our job is to help Mom have the best possible pregnancy without discomfort or stress.
Handling Change
Changes during pregnancy are constant, as the woman's hormonal balance shifts to prepare for the child. Ligaments loosen, causing shifts in the pelvis and sacrum, and often misalignments. The center of gravity is changing, and a lot of tension and stress gets trapped in the lower and upper back, neck and shoulders.
Chiropractic adjustment ensures everything is properly aligned and functioning without restrictions. Better pelvis and spine movement typically makes the labor and delivery process shorter and less painful.
We Know How to Help You
Our doctors are parents themselves, and very familiar with adjustments during pregnancy. We use the Webster Technique, an adjustment method specially designed for pregnant women, for most practice members. In some cases, we may also use a little Diversified or Thompson Drop, and trigger point therapy on the lower back and pelvis. We also have pregnancy pillows to ensure the comfort of our moms.
We know that moms-to-be can be anxious during their pregnancy, especially if it's the first time. Our doctors walk you through the process, every step of the way. The frequency of visits depends on the individual's health status. Don't worry, you're not alone. We're with you up to the delivery and after.
Benefits of Chiropractic
Some benefits you may experience are
Better health during the pregnancy
Pain relief
More room for baby to move into optimal position
Shorter labor and delivery
Faster postpartum recovery
Our moms tell us there's a big difference with a chiropractic delivery, and babies are healthier.
Get Started Today
Take that first step toward having a healthier and happier pregnancy. Contact us today at (817) 421-4775 to book an appointment.
CONTACT US »

Pregnancy Chiropractic Grapevine TX | (817) 421-4775